The rest day in Flores was planned for a visit to Tikal, a 90 minutes drive northeast. Most of us wanted to be there to watch a spectacular sunrise over the ancient site, thus got up a 2:30am, taxied to Tikal at 3am and after another 40 minute walk waited at the top of temple #4 for the sun to rise. Unfortunately nature has its own rules and shortly before sunrise mist pulled in and covered the forest into a white nothing, which only revealed the voices of the howler monkeys and birds. Only this photo could catch a bit of a glimpse of what it would have possibly been, if there were no clouds …


Tikal is one of the largest archaeological sites and urban centers of the pre-Columbian Maya civilization. It is located in the archaeological region of the Petén Basin in what is now northern Guatemala. Situated in the department of El Petén, the site is part of Guatemala's Tikal National Park and in 1979 it was declared a UNESCO World Heritage Site (source: Wikipedia).
We spend about 4 hours at the huge site with a guide. Some of the pyramid temples could be climbed and opened a fantastic view over the dense forest and the other temples.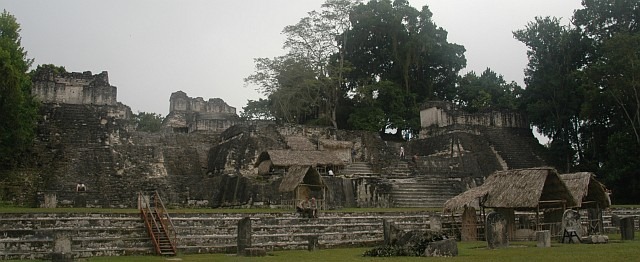 Although the conditions at Tikal were not the best the group kept its good mood and didn't miss a chance to entertain the rest.
Parrots and Spider Monkeys added their part to the show …
Btw. What does it mean, that the guides license expires on Dec. 21, 2012?